Here Are The Stocks Surging The Most As Vaccine Prospects Boom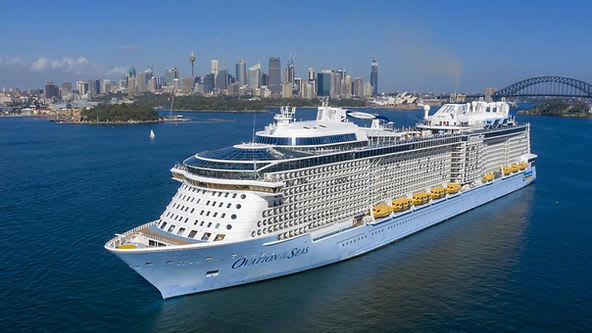 An aerial image of Royal Caribbean International cruise ship Ovation of the Seas sitting empty of passengers in Sydney Harbour. Photo: Getty Images
Key Facts:
- The Dow Jones Industrial Average and S&P 500 closed Monday at new record highs, climbing about 1.6% and 1.2%, respectively, while the tech-heavy Nasdaq continued to lag the broader market, adding 0.8%.
- Energy stocks by far led gains for the S&P 500, with firms like TechnipFMC, Schlumberger, and Valero Energy among the day's best performers–all adding roughly 10% on Monday, though they're still down more than 40% for the year.
- Big boosts to airline and aerospace stocks helped industrials post the S&P 500's second-best sector gain of the day, with Boeing leading the rebound, soaring 8% (but still down 40% this year), while American, Delta, and United Airlines surged 4% to 5%.
- Also outperforming the broader market, the Financial Select Sector SPDR Fund climbed 2%, as "bullish vaccine developments make it less likely banks will need to substantially build reserves" and "more likely that the Federal Reserve will lift capital return restrictions at the end of this year," says Vital Knowledge Media founder Adam Crisafulli.
- Though they're all still at least 45% below January levels, shares of the nation's three largest cruiseliners–Carnival, Royal Caribbean, and Norwegian–also added back some of their losses–surging 10%, 7%, and 6%, respectively, just one day after Royal Caribbean revealed more than 100,000 people have
signed up
for its free trial cruises.
- Strong fundamentals during an investor rotation to value stocks has also helped buoy small-caps; the Russell 2000 Index added 2% on Monday to close at a new all-time high, and Morgan Stanley said in a weekend note that it's now more bullish on small-caps than larger firms for 2021.
Crucial Quote
"The Moderna news reinforces the reopening trade for investors today," says Lindsey Bell, the chief investment strategist for Ally Invest, adding that there's likely more upside room for pandemic underperformers that are more leveraged to economic activity–such as value and travel stocks like airlines, cruise lines, and restaurants. "For months, we've been anxiously awaiting a clear sign that we are on the path to a sustainable recovery; Americans are eager to put COVID fears behind them, and multiple potentially viable vaccines, could be that ray of hope."
Key Background
Monday's broad-market rally extends the market rotation that began in earnest last week with Pfizer's announcement that its coronavirus vaccine candidate was 90% effective in preventing the disease. The bullish developments have "offered a glimpse into potential market leadership for the back half of this pandemic," wealth advisory Glenmede said in a Monday note to clients, adding that market laggards could become leaders as small-caps, value stocks and "unloved" sectors continue to significantly outperform the broader market. Pandemic market favorites, meanwhile, haven't been doing so hot. Big-tech FAANG stocks Facebook, Apple, Amazon, Netflix, and Google-parent Alphabet have remained virtually flat despite the vaccine news, and stay-at-home staples like Zoom, Peloton, and Twilio have actually slipped from their explosive highs. "This might be just the start of a longer-term trend as vaccine deployment comes further into focus," noted Glenmede on Monday.
What to Watch For
The holiday season could be make-or-break for many industries soaring on the vaccine news that are typically reliant on the surge in sales seen during the period. "It remains to be seen whether hope for an approved vaccine will fuel consumer confidence during the holiday season," says Bell. "Spending over this crucial period could provide clues into what the next leg of the economic recovery will look like." Glenmede on Monday said economic activity will likely soften as coronavirus cases continue to surge, but the upcoming holiday season "may prove resilient," the firm notes, citing the National Retail Federation's Annual Holiday Survey–which estimates that consumers plan to spend an average of $880 for the holidays this year, roughly the same as last year.
Tangent
Airbnb officially
filed
its prospectus on Monday afternoon, setting the stage for a long-awaited public market debut that could happen as soon as next month. The vacation-rental firm revealed a surprise profit of $219 million last quarter after losses in the three preceding quarters that totaled nearly $1.3 billion. Revenue was down 18.5% in the third quarter, compared to the same period last year, but that was far better than the nearly 75% decrease in the second quarter.