Why work from home when you can work from an Italian castillo.
Looking for a detoxifying, regenerative spot in Italy where you can indulge in leisure time but also keep working remotely? The COVID-19 pandemic has had one positive effect over here: it is boosting the appeal of offbeat, quiet, and lovely uncrowded historical villages that are embracing telework to lure travelers, particularly for long stays. Social distancing isn't an issue in these places and internet connection rocks. Hundreds of hamlets across the boot have been cabled with ultra-high-speed WiFi, so prepare to send emails and reply to your clients from the balcony of a peasant house overlooking olive groves and sheep-grazing hills while sipping a heady glass of red wine and indulging in all sorts of cheeses and cold cuts.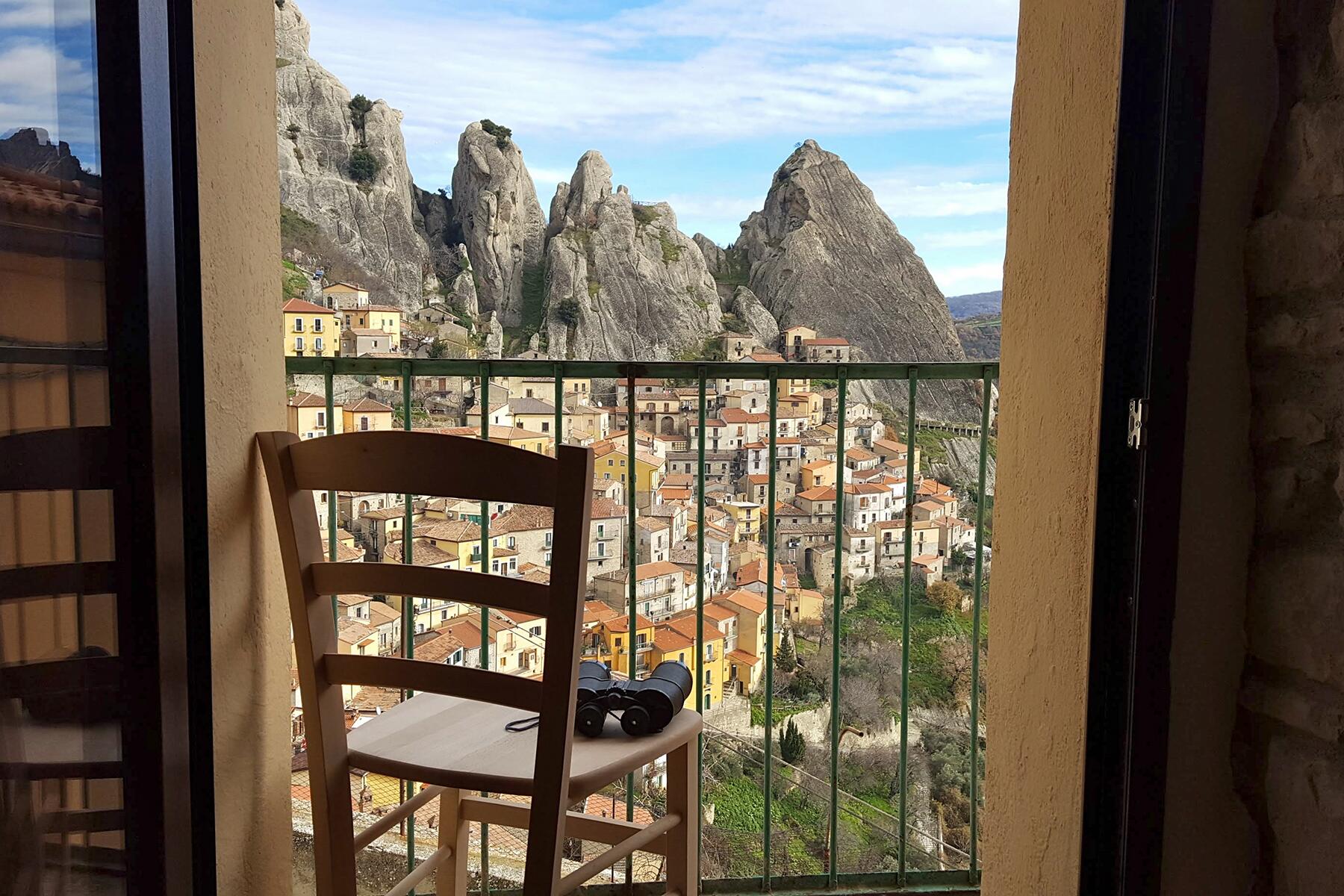 Imagine a perfect retreat for soul-searching and relaxing, surrounded by pristine nature and oxygen-rich air which will also help boost your productivity. The telework-vacation trend started last year when the pandemic broke out and is bound to grow these months, over summer, and beyond. It may well turn out to be the "new normal."
A groundbreaking "smart work" network has been launched across Italy with low-cost rentals in under-the-radar spots. Great WiFi in great lodgings with superb views. Locals have teamed up on a platform called Smartway where you can choose between different locations scattered across Italy, and various types of accommodations–be it a rural cottage, a suite in a castle, a grotto-dwelling, or a barn. You just need to register online and start browsing the appealing listings.
Costs are per rented property, not per person. Deals start at €35-€40 per night but there are regular super-super deals if you book for more than two weeks. Long stays tend to be cheaper, and booking in advance for autumn helps you skip the high season summer months. In some cases, the platform will even refund your incoming COVID swab cost.
All properties, in order to be part of the platform, are being rented at 33% less compared to normal prices in the area. And most have "smart rooms" equipped with the office essentials for WFH-ers. All accommodations are located close to shops, bars, and supermarkets. So don't complain if you run out of coffee because you can just hop down to the bar below your terrace and grab a ristretto, which is a concentrated espresso–a sort of adrenaline shot that will give you the energy to divide the day between fun and duty.
The cool thing is that most of these "smart" villages are unknown even to Italians, with unusual names and a sleepy vibe. Nobody will ever track you down there, just through a video call from your colleagues overseas. Here's our pick of the best stays, all in the range of €300-€500 per week no matter how many people you are as long as it's within the maximum capacity of the dwelling.
Macugnaga, Piedmont
In Macugnaga, a secluded Alpine village in the Piedmont region where grazing cows are your morning buddies as you sip a delicious glass of fresh milk on the balcony, you'll indulge in a bucolic stay that tastes of Arcadia. There's a cozy two-room apartment in a wooden and stone typical chalet with a French king-size bed and a fully equipped kitchenette. It comes with a library, sauna, and gym. The panorama stretches across the Monte Rosa snow-capped mountain peak and locals, barely 500, speak a German-sounding dialect that has little in common with Italian. Many still dress in traditional Alpine clothes and the only noise breaking the silence is the jingling of cowbells. Cable cars will take you up on glacier slopes and if you're worried about how the hell to get there, don't. Milan's airport is about an hour away by car. The owners won't make you pay your tourist tax for the first few days, too.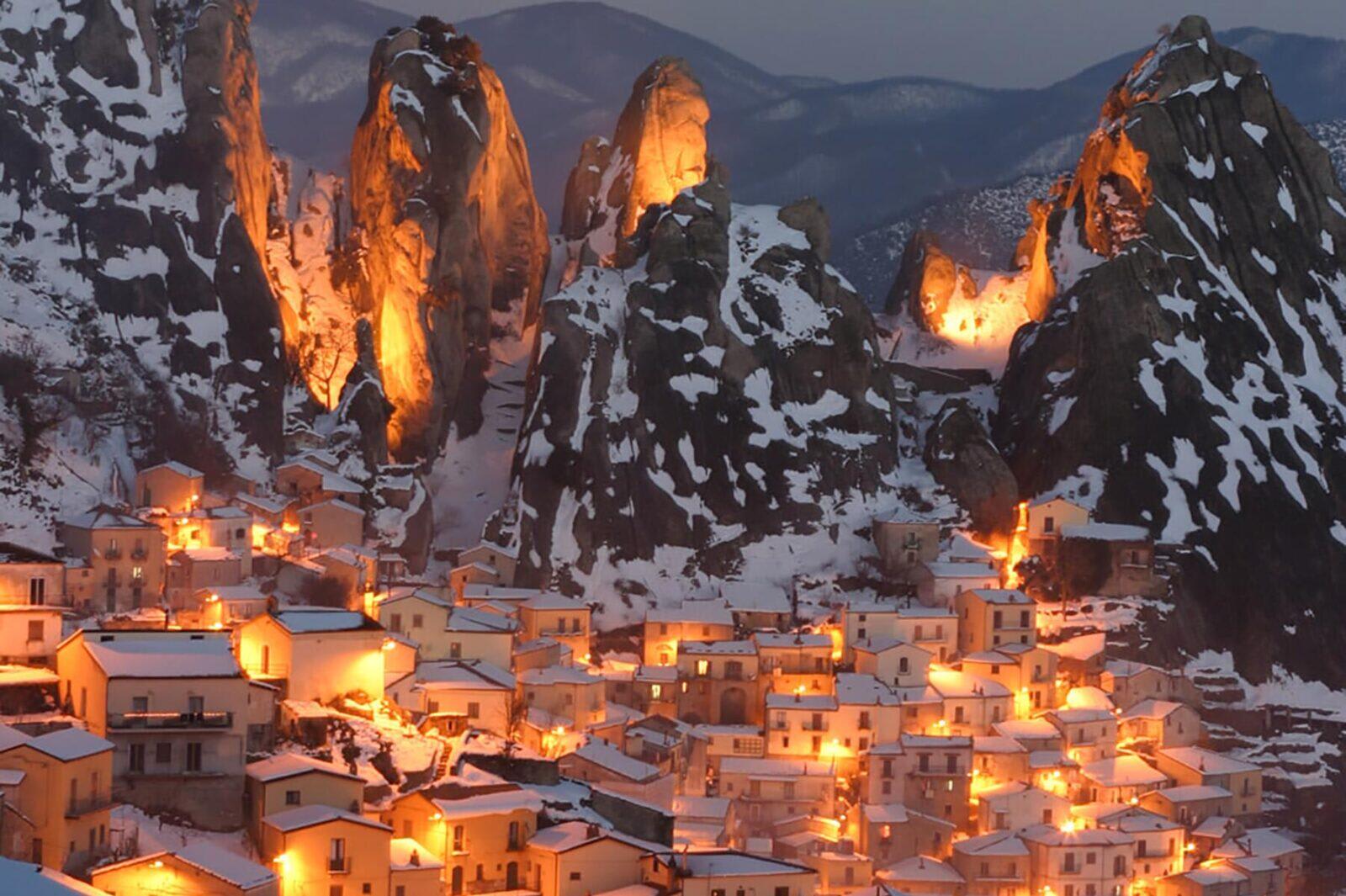 Castelmezzano, Basilicata
How about the thrill of sleeping on an open-air rocky natural sanctuary? Castelmezzano, in the deep Basilicata region, is built on the gigantic pointed crags of the so-called Southern Dolomites that offer dramatic scenery. Alongside awesome activities for extreme sports lovers in search of an adrenaline rush to make their telework more exciting. The "Angel Flight" ties you with a metal harness to a steel cable running from Castelmezzano's highest peak to that of the nearby village of Pietrapertosa over sharp pinnacles and hairpin road bends. Village houses here are carved from the grayish-brown mountain flanks. You'll be staying in an ancient farmer grotto-house recently restyled with big rocks jutting out of thick walls, ancient wooden furniture, artisan objects hanging on walls, dome-shaped ceilings, and a shower inside a cave. The kitchen has beech and olive wood tops, and an old fireplace great for barbecues. From the balcony the view is unique: it looks like the ragged peaks are trying to get inside the living room. Oh, and you even have Netflix, just in case you get bored.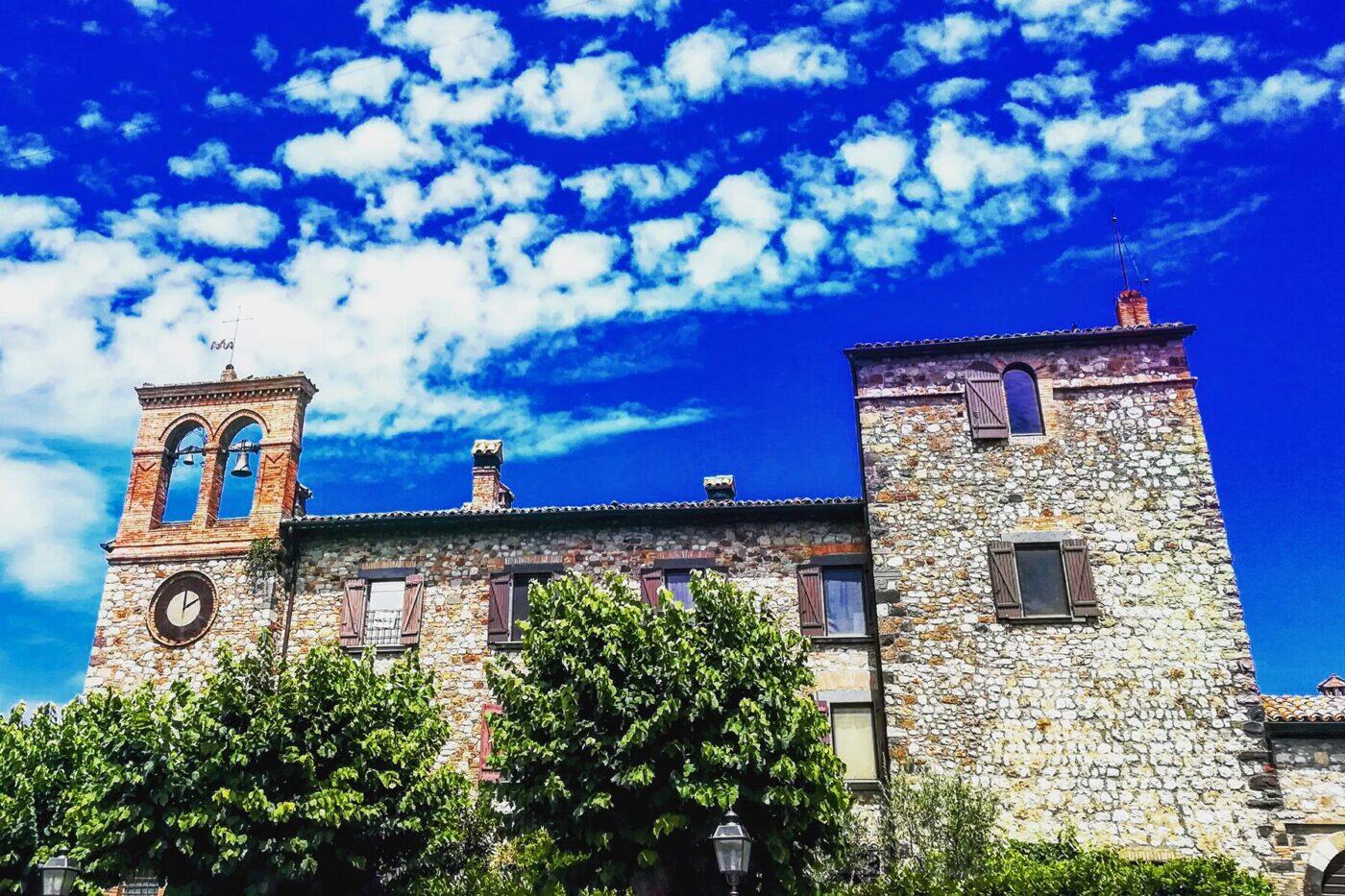 Monte Rubiaglio, Umbria
Imagine instead feeling like the king of your own private fortress while you work on that special project on which you've been stuck since Christmas, finally finding inspiration in a charming village in Umbria with just 600 residents. In Monte Rubiaglio, a one-hour drive from the Eternal City, you can sleep in a three-floor panoramic medieval castle tower with two bedrooms with antique furniture. Great for a solo stay or in the company of up to five friends, it'll be like living an Italian fairy tale. The windows overlook both sides of the castle, the internal courtyard with an old well and the reddish tile rooftops of the village dwellings clustered at the feet of the fortress, set high on the hillside. A narrow spiral staircase leads to the turret with a little fireplace and two beds, great for evening drinks where there's a 360-degree panorama of the green rolling hills and the Paglia river valley. The armory room and ancient library recreate a sort of Game of Thrones ambiance. Thermal baths, vineyards, deep woods, and olive trees dot the surroundings. Each morning, stop by the bakery for fresh cornetti filled with Nutella.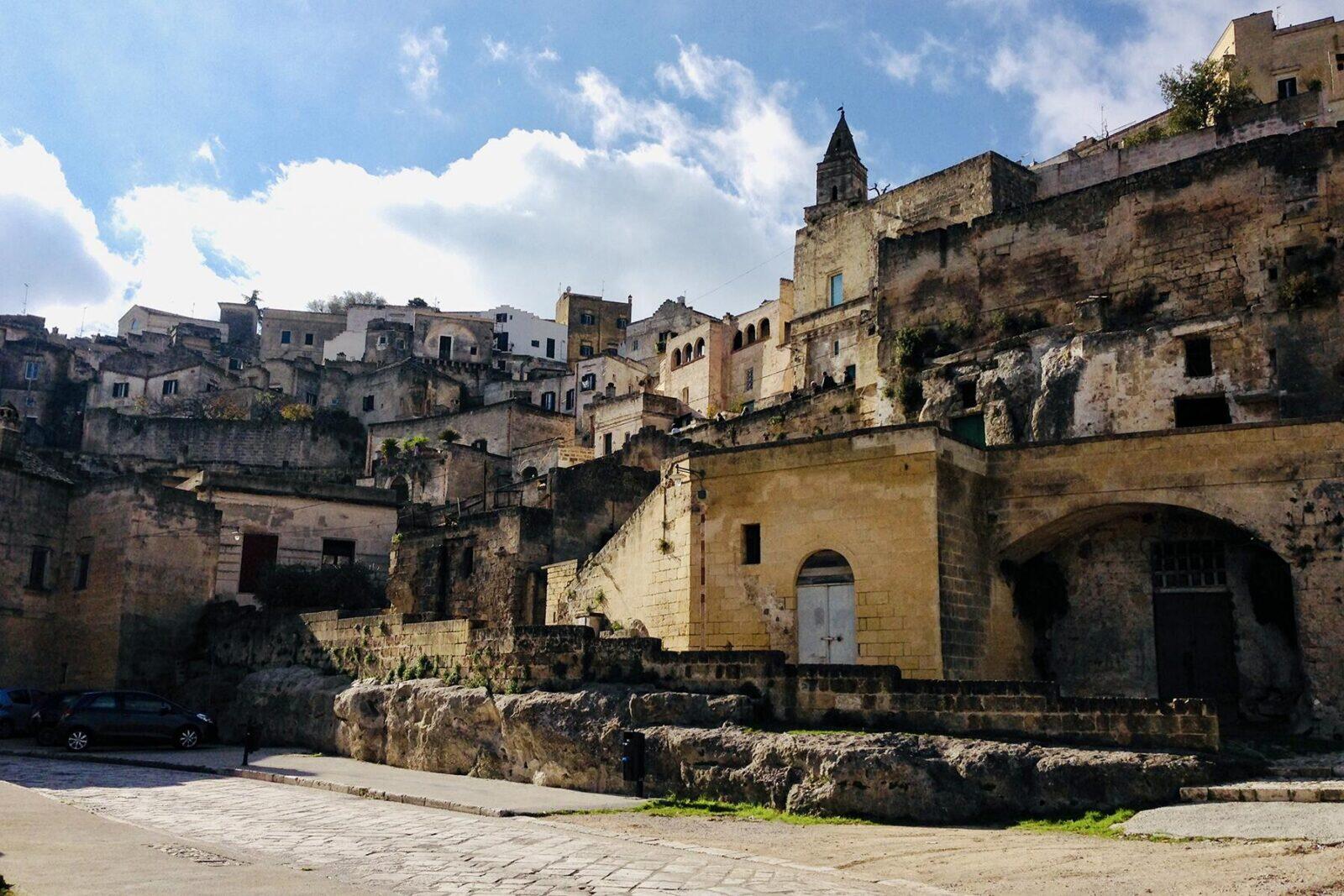 Other Incredible Spots
Spending a week or two in a stable is another exciting way to detox from daily stress, albeit while keeping plugged to the internet (if needed for work, of course). In the Tuscan village of Pergine Valdarno, the old meets the new world. Stays are inside the old barn and granary of a historical wine estate manor with red brick ceilings, wooden floors, stone walls, and a jacuzzi right in the middle of the living room. There's even a medieval hostel where pilgrims and merchants stopped to rest. While in the wine heaven of Montepulciano there's a small stone cottage dating back to the 1660s, tucked away in the silent narrow alleys with cute bright windows covered in flowery plants.